INTRODUCTION
For this piece, probably my penultimate one of the day I shall be sharing some of the  best recent political pieces that I have read. Most of these pieces are naturally about the election campaigning that is happening in this country, although I will be starting with one of the exceptions.
HEATHER HASTIE ON FGM
This one has already had a lot of attention, including a mention on the massively followed whyevolutionistrue blog, but it merits every last bit of attention it gets. New Zealand blogger Heather Hastie has produced a post that is long on facts and short on hysteria which is aimed to tackle those such as HuffPo who seek to deny the connection between Islam and the vile practice of FGM. The post is titled "Making Excuses for Islam and FGM". Here is a screenshot of the section of the post that relates  to Britain:
TWO PICTURES FROM
THE ELECTION TRAIL
This comes to you courtesy of The Canary. The two pictures show Jeremy Corbyn interacting with potential voters and Theresa May talking at carefully selected factory workers who were under instructions to ask no questions and not to talk to the press. I recommend you to visit the post, titled "Two pictures which sum up this general election better than a million words [IMAGES]".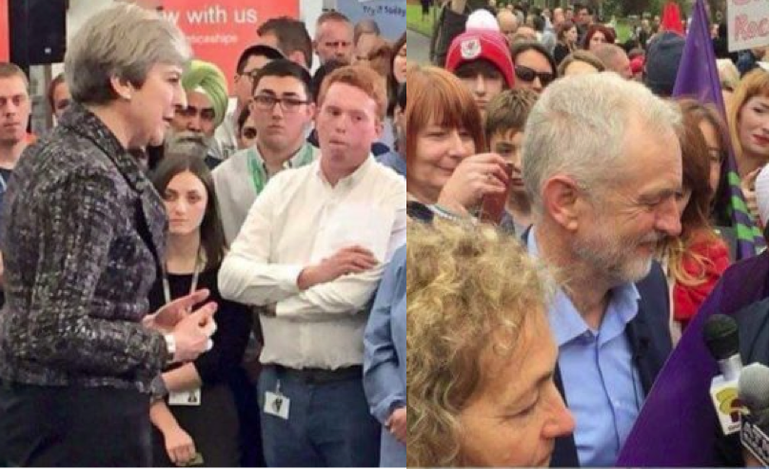 A TACTICAL VOTING WEBSITE
There has been much talk of tactical voting, and some action, notably from the Greens who are not standing against Rupa Huq in the marginal constituency of Ealing Central & Acton, having received assurances from her on three significant topics. There is a webiste, called stopthetori.es which you can visit for guidance on who in your area is nmost likely to topple the Tories. Below is a screenshot of the information they have for my own constituency:
VOX POLITICAL IN TWO MOODS
The #Gidiot (real name Gideon George Oliver Osborne) is stepping down as MP for Tatton (he faced a 'Hamiltonian' exit – named for Neil Hamilton, turfed out of Tatton in 1997, if he had not). His replacement is no other than Esther McVey, known in certain circles as "Fester McVile". In a vileness contest Osborne is the bronze medallist of this trio, while the contest between McVey and Hamilton for the top spot on the podium is a close one. I hope that the good folk of Tatton recall precisely how vile their new Tory candidate is and respond the way British voters often do to parachuted in candidates. This horror decision in the north has been matched in the South by Zac Goldsmith being selected as Tory candidate in Richmond. Mike Sivier of Vox Political has produced a detailed piece \about the Tatton decision titled "Tatton Tories have found someone as vile as George Osborne to replace him: Esther McVey".