INTRODUCTION
Welcome the latest in my series of variations on an 'all-time XI' cricket theme. Today's takes its inspiration from recent developments in British politics.
THE BRIEF
The Johnson-Cummings scandal now has more legs than a millipede, as both leading figures in it provided media appearances which managed to conflict with both the truth and each other. One government minister has already resigned in protest, and others may well follow. Today's variation on an all-time XI theme therefore sees a team og players whose surnames begin with B pitted against a team of players whose surnames begin with S, combining to form BS, competing for the Johnson-Cummings Trophy.
THE B XI
This team features a very strong top five, two bowling and one wicket keeping all rounder and three of the finest specialist bowlers you could wish to meet. With Bumrah and Barnes to share the new ball, Bedi and Bates to bowl spin and the 'golden arm' of Botham as fifth bowling option a good number of bowling bases are covered. It is true that with Barrington the best available the leg spin department is under stocked, but this side should be able to cope with that.
THE S XI
This team has a strong if not entirely aesthetically pleasing top four (remember, there are no style marks in cricket), the most complete player there has ever been at no 5, an x-factor all rounder at six, another genuine all rounder at seven, three bowlers and one of the greatest keepers ever to play the game. The bowling has all bases covered – there is outright pace from Statham and Stokes, fast-medium from Amar Singh, anything left handed that conditions call for courtesy of Sobers, Harbhajan Singh's off spin and Stevens' leg spin.
HONOURABLE MENTIONS
For the B XI Alec Bedser missed out as IMO SF Barnes would do the same job better, I considered Palwankar Baloo for the role I gave to Bishan Bedi, and Bernard Bosanquet would have dealt with the leg spin shortage. For the S XI the biggest miss is John Snow, but I rated Statham higher. If I wished to include an extra pace option and sacrifice the leg spinner then Franklyn Stephenson could come in for Greville Stevens. Finally, there would be some who would have given a batting slot to Guyanese stayer Ramnaresh Sarwan.
THE CONTEST FOR THE
JOHNSON-CUMMINGS TROPHY
Even though the 'B' XI has both Bradman and SF Barnes in its ranks, and they are well backed by quite a few other greats, I do not consider this to be a one-sided contest – the S XI have a quite awesome top five, a keeper in Strudwick who will miss nothing and some awesome bowling options. I cannot predict a winner.
A COUPLE MORE CUMMINGS STORIES
Having introduced the two teams who fill the BS brief and will compete for the 'Cummings-Johnson Trophy'. I have a couple more bits for you. Fintan O'Toole has a piece in The Guardian comparing the arrogance of Cummings and Johnson with that of the Catholic Church in O'Toole's native land and notes that the behaviour of the church cost it most of its influence in that country. The Tory Fibs twitter account has brought my attention the letter signed by leaders of six opposition parties (Labour being cunningly, forensically absent from the list). The letter is below: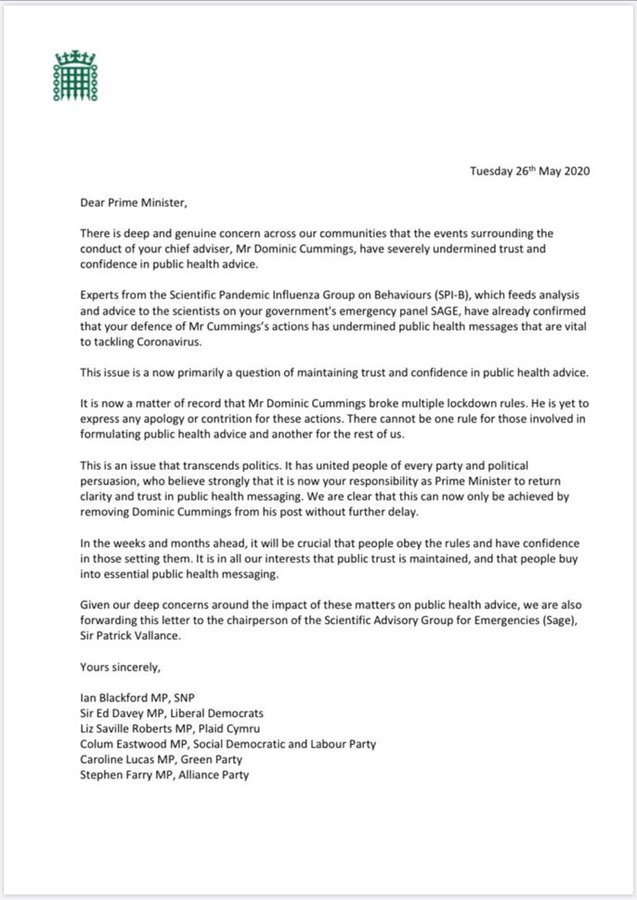 A MATHEMATICAL TEASER
Can you solve this little tester from brilliant.org:
Solution will appear in a later blog post.
LINKS AND PHOTOGRAPHS
Just before we come to the pictures I have a few more links to share:
Now it is time for my usual sign off: