After the debacle of the Ashes in Australia (|Australia 4, the weather 1, England 0) a number of ECB management figures departed which was welcome news, although Tom Harrison remained in post. Paul Collingwood was appointed interim head coach, with Andrew Strauss taking over as director of cricket. Their first job together was to pick the party for the test tour of the Caribbean, and this post looks at their choices and includes a suggestion for the permanent head coach role.
INTRODUCING THE SQUAD
There is an article on cricinfo about the squad which I urge to read (click here), and I use their graphic to introduce the squad: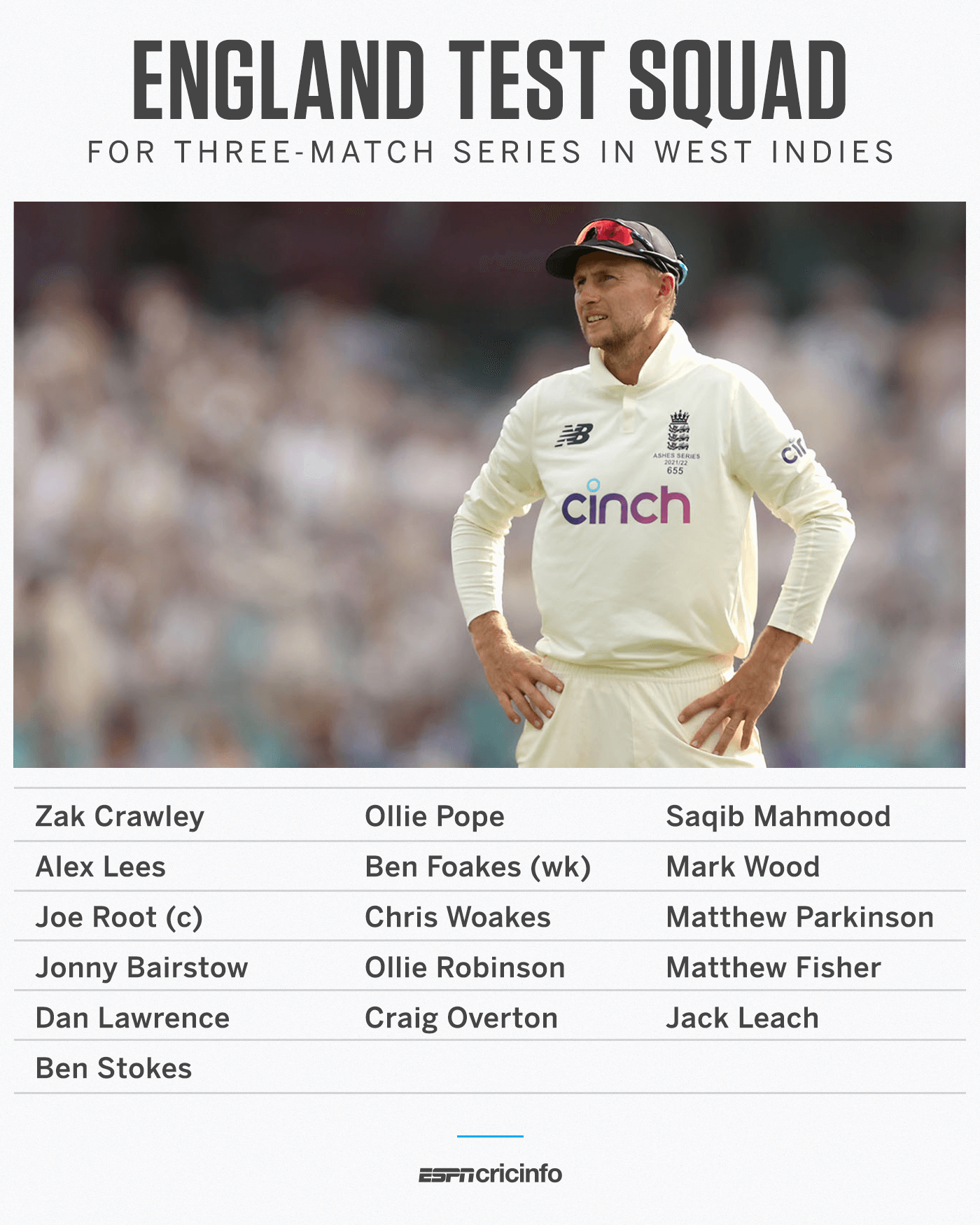 THOUGHTS RE THE SQUAD
This is one of the worst selections I have ever seen done for England (and I have seen a lot). There are only two recognized openers, Lees (whose presence I welcome, he has built a fine record at Durham over the last few years) and Crawley (averages in the low 30s at FC level and less than that at test level, a poor selection). There is no recognized number three at all (apparently Root, one the best number fours England have ever had, is going bat there, a quite awful call by Strauss/Collingwood). Pope and Lawrence are fine middle order players though neither have done anything great at test level as yet. Stokes of course is a great player. Bairstow does not have a great test record, but he did score a century in the only game in Australia in which England were not utterly destroyed (with the assistance of some weather interventions they hung on for a draw nine down in the second innings). Foakes is one of three selections I am genuinely pleased about (I welcome the inclusion of Parkinson the leg spinner in a full squad for the first time, and Jack Leach has been mishandled but is still the best current English spinner). While I understand the thinking behind the inclusion of Woakes – his all round skills theoretically give England more options – but in practice outside England his bowling is insignificant, which means that what you actually have is an averagely good lower middle order batter. Craig Overton is good cricketer, but unlikely to pose much of a threat with the ball in the Caribbean. Mark Wood, Ollie Robinson and Saqib Mahmood are all fine bowlers and I welcome the inclusion of Mahmood, not quite out and out fast, but quicker than most English seamers. Matthew Fisher has played 21 FC matches for Yorkshire, in which he has taken 63 wickets at 27.52, a respectable but not outstanding record, and he is yet another of the right arm fast medium brigade with which English cricket is overstocked. Neither James Anderson nor Stuart Broad have been included in the party. Defenders of this move are arguing that this tour is being used for experimentation and that we already know what Anderson and Broad are capable of. To this I say: pshaw – England should by now have learnt that they are not strong enough as a test side to take any opposition lightly, especially away from home, and first and foremost their target should be win the current series.
Other than the two veterans (Anderson especially, who at 39 continues to be majestic with the ball) the players I feel have been worst treated in this shambles are Abell, Bohannon and Bracey, three recognized number threes with good recent records, any one of whom could have been included in this party to fill that slot. I also feel that Crawley is very fortunate to be persisted with – a recall for Sibley, or elevation for any one of Libby, Haines or Yates would have looked a better move.
I conclude this section by congratulating West Indies in advance for the series win they have just been handed by the England selectors.
THE HEAD COACH ROLE GOING FORWARD
As far as I am concerned Collingwood by his role in this utter shambles of a selection process has just ruled himself straight out of the permanent role as head coach. The right person for head coach of the test side for me is Gary Kirsten, who should have had the job when it was given to Silverwood instead. Kirsten wants split coaching roles, so that the ODI and T20 sides have a head coach of their own. I am happy to go along with this, and I suggest that the head coach of these sides should be Charlotte Edwards who after an awesome playing career has gone on to build up an excellent coaching record.
PHOTOGRAPHS
Time for my usual sign off…