INTRODUCTION
Welcome to the latest in my "100 cricketers series", finshing the ninth XI by looking at three woman cricketers who feature in it. The introductory post to the series can be found here, the post in which I introduce the ninth XI is here and the most recent post in the series is here. Now before we get into the main meat of the post it is time for a…
COUNTY CHAMPIONSHIP UPDATE
We are into day 2 of the second round of county championship matches, and the current situations are as follows:
Further update from the Nottinghamshire v Somerset game – Abell and Bartlett both completed centuries, Abell has fallen for 101, but Bartlett (one of my Five to Follow, remember) is still there on 117 not out, and Somerset with six first innings wickets standing are already 16 in credit at 279-4. Now it is time for the main business of the post, starting with…
From news of one batter who bowls offspin on the side to another, 27 year-old Stoke on Trent native Danielle Wyatt. Her princiapl successes have come in T20Is, in which format she has twic reached three figures, with a best of 124, but of late she has begun translating that form to ODIs to as well, with a few useful efforts in India and Sri Lanka. Her 46 wickets at 15.34 in T20Is, with a best of 4-11 show that her offspin is not entirely to be disregarded (she would be sixth bowler in this XI). I expect to see more big performances from her in the next year or so.
The 21 year-old off-spinning all-rounder has recently been batting up the order for the Sydney Sixers in the Women's Big Bash League, while her bowling has been consistently effective. Being so young she is still definitely improving, and it is on future promise that she has really been selected in this XI. 
The 27 year-old leggie is the smallest player in my 100, and makes use of her lack of inches to release the ball upwards, sending it in an arc that takes it out of the batter;s eyeline for much of its flight. She also bowls with extreme lack of pace (only about 60kph – 37mph) meaning that batters have to supply all the impetus themselves. As so often with the women she has not had sufficient opportunity to show her skill in test cricket, but she has 63 ODI wickets at 21.09 and 74 T20I wickets at 14.77, which are testament to the effectiveness of her methods. She has yet to achieve a five-for but has a best of 4-13 and a T20I best of 4-9. For a historic comparison involving dimunitive leggies I give you Alfred Percy "Tich" Freeman, the 5'2″ Catford born leggie, whose 592 first class appearances brought him 3,776 wickets at 18.42 (second to Wilfred Rhodes in the all-time list, and the Yorkshireman played over 1,000 first class games), including all ten in an innings three times (a record), and in 1928 a barely believeable 304 wickets in the season (again an all time record). 
THE FUTURE AND A GUESSING GAME
I have one more post to do to complete this series, and will then create a page from which all posts in the series can be accessed. That post will feature the 100th cricketer in my list, and with the clue that it is somebody who was no stranger to completing hundreds I invite readers to attempt to guess who it is.
LINKS AND PICTURES
Before my usual sign-off I have some links to share…
A great twitter picture based on Branson daring to complain about the fact that Virgin/Stagecoach have been barred from bidding for rail franchises, courtesy of Michael (@PrinceJasper):
— Michael (@PrinceJasper) April 11, 2019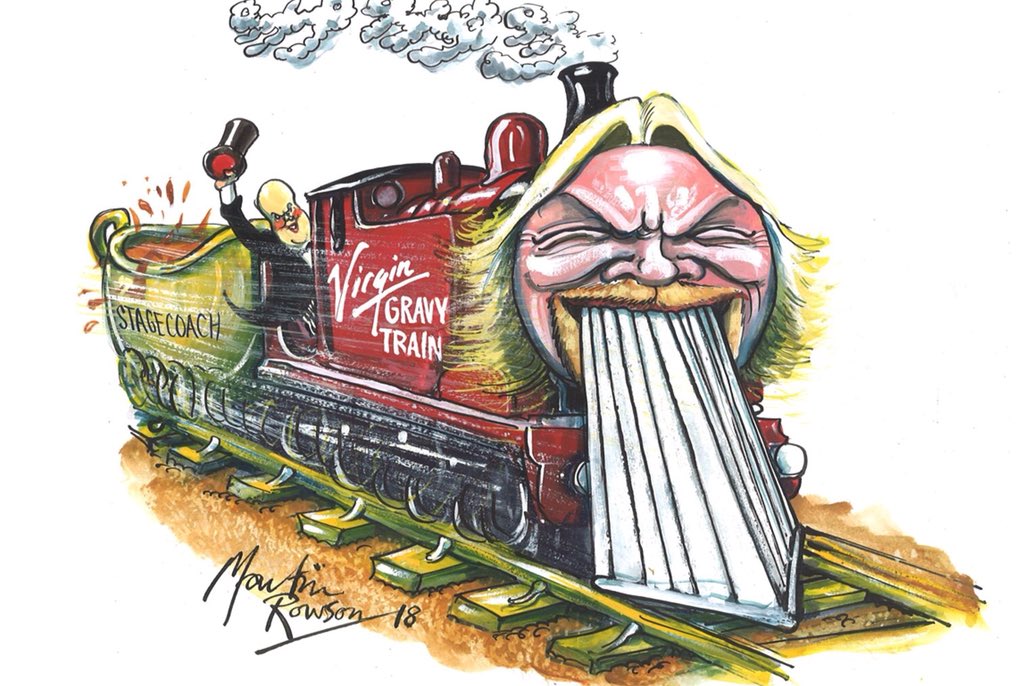 Frances O'Grady on Railways, via twitter courtesy of The Pileus:
Lord Sugar may defend Richard Branson & Virgin Trains' record running the railways but if you look at the facts…..Branson has been a disaster for rail passengers and tax payers. pic.twitter.com/9lWNmEaSkD

— The Pileus (@thepileus) April 11, 2019
The We Own It campaign provide this on the same subject:
So it turns out that @Lord_Sugar is a huge fan of rail privatisation.

Who do you think is right? Alan Sugar or 76% of the public? 🤔🤔🚂🚂 pic.twitter.com/wAzXjXBlAP

— We Own It (@We_OwnIt) April 12, 2019
Spock Thornaby on ignorance and hate:
— Spock Thornaby🖖 (@Spock_Thornaby) April 12, 2019
The last thing before the sign-off is for those of my readers who are UK citizens – it is a petition on the official government petitions website calling for our electoral system to be changed to PR. If you are eligible to do so please sign and share:

Now it is time for the usual sign-off…